Product Description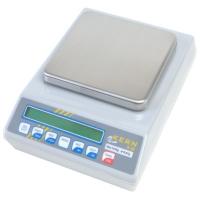 The Elcometer 8720 is a compact, low cost balance which offers extensive weighing functions selectable by the user. Available in two ranges, the Elcometer 8720 is very easy to use and supplied with a protective working cover and adjusting weight to allow the user to quickly adjust the calibration.
Specifications
Elcometer 8720 KB Balance – Specifications
Part Number
Description
K0008720M001
Elcometer 8720/1 Standard Balance
K0008720M002
Elcometer 8720/2 Standard Balance
Elcometer 8720/1
Elcometer 8720/2
Range
0 – 1210g
0 – 10,100g
Reproducibility
0.01g
0.1g
Linearity
±0.03g
±0.3g
Dimensions
165 x 230 x 80mm
Weight
1kg
Certificate available
Certificate of Calibration: issued for Fixed Calibration equipment and shows readings and traceability.
Accredited Certificate: can be issued for Fixed Calibration Equipment and a full UKAS traceable certificate is issued from an independent Calibration Laboratory.

Packing List:
Elcometer 8720
1 x 200g test weight
power cable
operating instructions
Data Sheet
Elcometer 8720 KB Balance – Data Sheet