Product Description
PLEASE NOTE: THIS PRODUCT HAS BEEN DISCONTINUED – Please contact us if you would like a recommendation of a unit to replace this model.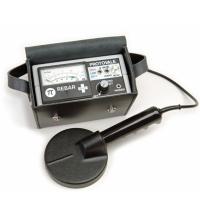 This gauge provides a quick determination of the orientation and depth of rebar.The Elcometer P120 Rebar Locator, is perhaps the easiest and fastest way of detecting reinforcing bars in concrete. Widely used before coring or drilling holes to find "safe spots", the Elcometer P120 will not only indicate the rebar's location and direction but will also give an indication of the depth of concrete cover.

Designed in collaboration with the construction industry, the Elcometer P120 is an accurate, reliable, easy to use steel rebar locating instrument, built to last.

Available in both metric and imperial, the Elcometer P120 is supplied with a 100mm  search coil, leather case and batteries.
Fast, accurate and stable– A loud audio tone and a clear analogue meter for quick accurate scanning. There is no need to keep zeroing the instrument during use.
High resolution controlled field search head– The strongest signal is in the centre of the search head so the Elcometer P100 is accurate even when working at very close reinforcement bar centres or near metal objects, for example close to scaffolding or metal window frames.
Versatile instrument– Supplied with a standard 100mm head it will also accept the 150mm head and the Borehole probe for locating rebars and locating tendon ducts at great depths.
Highly directional detection field– The Elcometer P120 can quickly and easily distinguish between horizontal and vertical bars.
Headphone socket– Clearly detect the rebar in noisy environments.
Clear Instrument Panel– High quality meter shows signal strength and battery state.
Identification and Orientation of the bar
The Elcometer P120 can distinguish between horizontal and vertical bars.
After locating the steel reinforcement bars in the concrete, rotate the rebar locator's search coil (probe) until the maximum and minimum signals are found.
The maximum signal indicates the bar is running parallel to the search coil's handle, the minmium signal indicates that the bar is running at 90° to the search coil's handle.
Specifications
Elcometer P120 Rebar Plus Concrete Rebar Locator – Specifications
Detection Ranges for Single Reinforcement Bars
Rebar Diameter
Detection Depth
Resolution of Parallel Bars
mm
mm
mm
8
120
60mm pitch at up to 35mm
16
140
75mm pitch at up to 50mm
32
160
150mm pitch at up to 85mm
| | | |
| --- | --- | --- |
| Model | Description | Part Number |
| Elcometer P120/1 | Elcometer 120 Imp Rebar Plus Locator – Metric | W120155I |
| Accessories | Probe Lead for Elcometer P120 | TW999165G |
| | 100mm  Directional Search Coil for Elcometer P120 | TW999198F |
| | 150mm  Extra-Depth Directional Search Coil for Elcometer P120 | TW999198E |
| | Borehole Probe for identification of rebar up to 405mm | TW999165F |
Data Sheet
Elcometer P120 Rebar Plus Concrete Rebar Locator – Data Sheet
Instruction Manual
Elcometer P120 Rebar Plus Concrete Rebar Locator – Instruction Manual