Product Description
PLEASE NOTE: THIS PRODUCT HAS BEEN DISCONTINUED – Please contact us if you would like a recommendation of a unit to replace this model.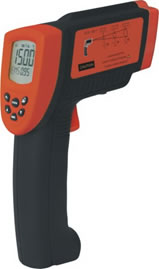 Features
High DS ratio.
Backlit dual display LCD.
New series for general purposes.
Ultra low power consumption in shutdown mode.
Extended long time measuring reliability.
Laser sighting on/off is switchable.
Electronic trigger lock.
Temperature data storage.
Audible alarms
Applications
Far distance temperature monitor.
Electrical troubleshooting.
Air conditioner.
Manufacturing processes of semiconductor technology.
Test terminals on circuits.
Perform HVAC energy audits.
Specifications
IR 882 High Performance Infrared Thermometer – Specifications
Description
Specification
Range
-18°C to +1500°C
Accuracy
±2% or ±2°C
Resolution
0.1°C <1000°C (1°C >1000°C)
Emissivity Adjustable
0.10 to 1.00
Distance/Spot ratio
50 : 1
Response Time
500ms
Wavelength
8 to 14μm
Repeatability
±1% or ±1°C
Power
9V Alkaline Battery
Weight
480g
Dimensions
200 x 155 x 59 mm
Average / Difference ΔT / Max / Min Function
High and Low Temperature Alarm Setup
Data Storage / Recall Function
Data Hold Function
Laser Target Pointer Sighting
Backlight Display Function
Auto Power Shut Off
Data Sheet
IR 882 High Performance Infrared Thermometer – Data Sheet
Instruction Manual
IR 882 High Performance Infrared Thermometer – Instruction Manual